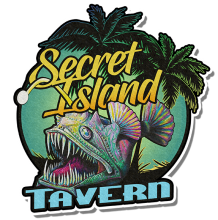 Restaurant in Kill Devil Hills, NC
Located at milepost 8.5 in Kill Devil Hills, Secret Island brings new life to a classic space. The restaurant's original Victorian furnishings — its elegant chandeliers, stained glass doors and intricate ornamental trim — accent its otherwise casual interior. The first floor sprawls nonchalantly from pool room to dining room to saloon, ultimately offering itself up to the palatial stage upon which decades of artists have spiritedly performed. A spiral staircase rises above it, delivering showgoers to a balcony which spans the perimeter of the venue and provides a more passive vantage point.
Nightlife in Kill Devil Hills, NC
Secret Island swiftly solidified its role as the premier purveyor of Outer Banks nightlife. The restaurant has offered live music nearly every night since it opened its doors in April 2018. In addition to new artists on the regular, they offer a handful of weekly staples. Take Wednesday's Reggae Night, for instance. Hosted by the Outer Banks' own Rachel Dickerson, it's become highly popular among locals. When it's not live music, it's a DJ or comedian — yes, a comedian! Secret Island turns into a comedy club Tuesday nights throughout the summer. Beyond that, they put on the occasional late-night bikini or dance contest. To top it all off, there's a late-night food menu available no matter the occasion. It's Secret Island's mission to offer something for everyone. You might like evening wind downs with acoustic blues and a slow-sipped drink, or maybe you get after it after hours. Either way, keep your eyes on their nightlife lineup. It won't be long before there's a can't-miss show to catch.