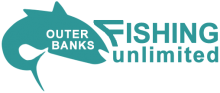 Outer Banks Boat Rentals in Nags Head, NC
Fishing is a premier activity on the Outer Banks – one well worth hours spent out at sea or muscles sore from the fighting chair. A common choice for those looking to spend time on the water is to do so via a charter fishing service. However, if you know your way around a boat or you want to experience fishing from a vessel that they also navigate themselves, Fishing Unlimited invites you to "Be Your Own Captain!"
With our varied assortment of boat rentals, you plan a fishing trip on your terms: Where do you want to go? How many people do you want to go with? What length of trip do you want? Between our outboards and two sizes of pontoon boats, groups of up to four, 10 or 12 can get underway and to where the fish are biting. Customers can choose to rent by the half or full day, so everyone gets as much water time as they want. Our boats aren't rented just for fishing. You can also use them to venture in search of dolphins, pilot a private sunset cruise or pursue whatever whims inspire you. Select your preferred outboard or pontoon boat, the length of time you want it and launch it from the 300-foot pier we maintain onsite.
But wait – are you ready for spending a morning or day on the water? Before getting underway, stock up supplies at the Fishing Unlimited tackle shop. All year long, we serve anglers the bait and tackle needed for a successful day on the water, from a boat, a pier or in the surf. We carry gear from choice brands, including Fish Bites, Daiwa and Gulp. We also sell ice to keep your catch fresh.
If you have any questions while planning your trip, we're happy to help advise what boat and trip type would suit the excursion you envision.