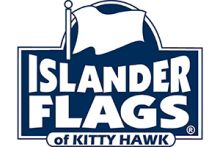 Islander Flags of Kitty Hawk, Inc. is a family-owned and -operated business which began on the Outer Banks of North Carolina in 1987. Now with over 30 years of experience in this industry, we have gained the confidence of our customers and are committed to customer satisfaction and creative solutions.

This is a family business where we share the responsibility of management, creative design, sourcing and buying. We offer much more including all types of in-ground flagpoles and flagpole accessories as well as custom flags for advertising use. Our product line includes all fabric products including display banners, table covers, light pole banners and vinyl mesh banners.
Custom Flags are our specialty! - Schedule an appointment with our designer Emily Ausband while you are on vacation to design your family flag; coat of arms or take back information for your company colors!