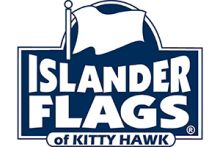 Islander Flags of Kitty Hawk, Inc. is a family-owned and operated business which began on the Outer Banks of North Carolina in 1987. Now with over 30 years of experience in this industry, we have gained the confidence of our customers and are committed to customer satisfaction and creative solutions.
Our own line of handmade, large decorative flags is very popular and hard to find.  We have made our "Islander Flags" since the very beginning and these are the most ordered items on our website here.
In addition to all types of traditional and decorative flags and garden flags, we also offer hardware such as poles and brackets for your home and large in-ground flagpoles in both fiberglass and aluminum. Our suppliers include Evergreen, Studio M, Magnolia Garden, Flags Galore, Caroline's Treasures, Toland, and others.  Our primary supplier for US, state, country, historic and military flags is Annin & Company.
Our giftware has expanded as well and includes outdoor mats, wind chimes, windsocks and spinners, ceramic mushrooms, tea towels, vinyl mats, and other coastal decor.
We also carry the most popular college and sports team flags including 3x5 with grommets as well as house and garden flags.