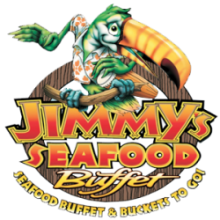 Outer Banks Seafood Buffet and Buckets to Go
Jimmy's Seafood Buffet in Kitty Hawk offers overs more than 100 tempting dishes prepared with an emphasis on a Caribbean twist. All items are made in-house, including salad dressings, soups such as She-Crab Bisque and homemade desserts. We also purchase as much Outer Banks seafood as possible, including local fish and shellfish! Our buffet offers something for everyone including all you can eat crab legs (which are brought fresh to the OBX from all over: Florida to Alaska and beyond!). The crab legs are truly a must-try! We also offer Outer Banks Seafood Buckets to go. Choose from our set bucket menu or create your own take-out with fried seafood platters, soups and salads, pasta dishes and steamers!
In addition to the delicious food, we strive to make Jimmy's Seafood Buffet a really fun place for the entire family. Before or after dinner you will find entertainment such as pony rides, corn hole, putt-putt, and/or live entertainment.
Join us for an unforgettable meal at Jimmy's and eat Outer Banks Seafood to your heart's content!