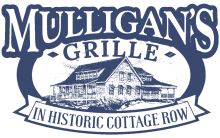 There we sit – bright yellow and rising over the east side of the dunes. Are we the sun? Nope, even better. We're Mulligan's Raw Bar and Grille. If you dine on our partially covered outdoor deck, you can marvel at the timeless Outer Banks scenery surrounding you. From sunsets over the dunes, the neighboring historic homes to the Atlantic's brilliant expanse of blue, a visit here is a feast for both your eyes and stomach.
With influences from old Nags Head as well as ones from today, we pull the best elements of each to make our restaurant truly reflective of the Outer Banks. For starters, we're located in Historic Cottage Row, amongst 35 other cottages that were constructed in the mid 19th Century. Our home, however, is looking pretty good for its age – perhaps our daffodil-yellow cedar shake building and its green storm shutters have caught your eye during a drive along the Beach Road or the Bypass.
For over 20 years we've been a favorite among locals during lunchtime, cocktail hour and dinner. We offer southern coastal cuisine, and as our name suggests, we're a go-to spot for satisfying all of your seafood cravings ranging from delicacies like oysters and crab legs to standard grub like clam strips and butterfly shrimp. Not so much a seafood person? No problem, we've been voted for having the best burger on the beach for seven years running. We also know that food tastes noticeably better when it's prepared with the best of ingredients, which is why our kitchen prepares dishes using fresh and local ingredients. And the experience doesn't stop at food – we have live musical entertainment every night in season. Come check it out!