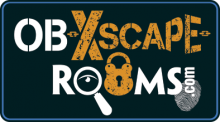 Outer Banks Escape Room Near Kitty Hawk
Put your wit and grit to the test at OB-Xscape Rooms, the first of it's kind to land on the Outer Banks. Located just north of Kitty Hawk in Southern Shores Crossing, we specialize in pushing you to harness your inner hero. Each of our escape rooms is home to a fantastically volatile scenario that will make you pay if you can't problem solve under pressure.
Participants will be (figuratively) locked in their choice of room and given a limited time to find clues and decipher the codes necessary to avert disaster: Jump ship in Mutiny on the Lark; deactivate an evil scientists explosive reactor in Meltdown; crack a creepy case in Cold Case Murder… OB-Xscape Rooms is designed to trigger your deductive reasoning faculties in exhilarating fashion.
Warning: This is not the movie theater, nor a stuffy, upscale restaurant. This is the ideal alternative to being glued to a seat. Whether you're searching for a creative date idea or for a healthy, affordable way to spend time with family, a trip to our headquarters is bound to leave you breathless. If it's entertainment you crave, this unique interactive experience is guaranteed to satisfy.