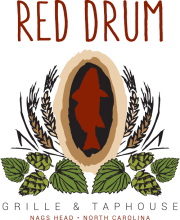 Red Drum Grille & Taphouse has been a go-to Nags Head restaurant for locals and visitors alike for nearly two decades. Brian Brown and chef Craig Errickson first founded Red Drum together in 1998. The founders named Red Drum for the same delicious fish local to the Outer Banks, a name that fits for this Nags Head restaurant, bar and grill that serves up fresh local seafood alongside juicy steaks, spicy ribs, stuffed chicken and more. The service at this family-friendly Nags Head restaurant will keep everyone in the family smiling, from children to adults. Many of the Red Drum team members have been a part of the restaurant's family for 10 years or more because they love what they do – making sure that you leave happy!  
The Red Drum family welcomes you and your family to dine in a casual and relaxed atmosphere. There's both a quiet dining area and a bar area, so you can find the spot that fits your needs. With 18 beers on tap, there are plenty of options available in the taphouse to satisfy your thirst.
Prepare to be entertained! Red Drum offers a game room and lounge complete with billiards and foosball tables, surrounded by comfortable furniture to make you feel right at home. There are also plenty of video games for the children (or for the kids at heart).
Red Drum Grille & Taphouse is open seven days a week and serves food from 11:30 a.m. to 9:00 p.m. with bar and steamed food until midnight. Don't worry if you get in late; the team at this classic Nags Head restaurant will be ready for you. Come on in and enjoy surf and turf and brews at Red Drum Grille Taphouse, at milepost 10 on the beach road.