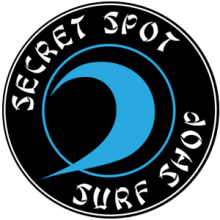 Outer Banks Surf Shop in Nags Head
Secret Spot Surf Shop in Nags Head emerged from one of the first surfboard labels born on the Outer Banks. Founder Steve Hess shaped the label's first board in 1977 to much acclaim. By 1981, his shapes had garnered enough interest from the community to justify opening the full-scale surf shop that still stands along the bypass today.
You can't miss it! With vibrant coastal scenes painted from corner to corner, the exterior of Secret Spot is a sight to behold, and a clear indication of the brand's overall originality. The first thing you'll notice once inside is a ceiling covered in classic surfboards. The collection is a record of history, showcasing the evolution of a half-century of surfboard design. Once you get around to looking ahead, you'll observe a vast and diverse inventory.
Surf Gear & Surfboard Rentals on the Outer Banks
Secret Spot carries everything you'd expect a first-rate surf shop to carry, as well as - and perhaps more significantly - some characteristically unexpected gems. If it's a watercraft you're searching for, you'll find your fit within our selection of new and used surf, skim, SUP and body boards. Or outfit yourself with surfwear from whichever brand you dream up, plus accessories. We offer casual and dress casual clothing, bathing suits, hats, sunglasses, watches, tropical gifts, surf art and more. We're the coolest source for infant and toddler clothes on the Outer Banks too.
We also stock hand-carved tikis. They come direct from the Phillippines, where Steve Hess is probably surfing right this moment. In 2012, he handed the reigns off to Leanne Robinson, the shop's long-time manager and one of the east's top female surfers. Stop in to see how she's helping solidify Secret Spot Surf Shop's legacy as the original lifeline to Outer Banks surf culture.