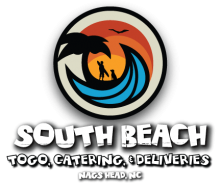 Outer Banks Restaurant in Nags Head
What began as an adventure for our family 28 years ago has grown into something much, much more. We are a family owned and operated business that strives to create tasty, beautiful dishes, while offering excellent service to ensure that our guests have the best dining experience possible on the Outer Banks. 
Chefs Wayne and Kerstin, as well as our culinary team put passion and creativity into each dish with presentations just as inspiring as the flavors. We offer a wide variety of southern cuisine, local seafood, international foods, vegan and vegetation options for you and your guests.
Outer Banks Event Catering 
We also offer off-site catering with our mobile unit featuring a fully equipped kitchen that can fulfill any need. We will work with you to plan the perfect event with a tailored menu that is sure to please both your palette and your wallet.
We serve all areas of the Outer Banks and offer multiple styles for a perfect custom fit no matter the occasion. We pride ourselves in using the freshest local ingredients for all of our meals and we hope you will cherish the special treatment received from our experienced chefs and staff. Our food is not just great, it is also a work of art.