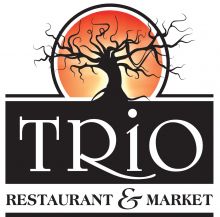 Welcome to TRiO! A unique destination for wine, beer and food lovers, TRiO is a bistro, bar and marketplace all under one roof in the heart of Kitty Hawk. We've created a space that's simple, elegant, and immediately comfortable. Whether you're shopping our array of wine, beer, cheese, gourmet foods and more, or enjoying inspired food and drink in our bistro, it's our goal to provide you with a memorable experience.  
In our market, we've gathered vast selections of wine, beer, cheese and more from around the corner and around the world. From quality and value, to high-end and exceptional, not to mention "Wow, I've never even heard of that one!" we've got you covered. Our knowledgeable staff shares a passion for our products and a desire to assist both the novice and our more seasoned clientele in making their selections.
In our bistro, we serve casually inventive fare with a selection of cheese and charcuterie boards, gourmet Panini, creative small plates & mains featuring fresh, seasonal ingredients. We've carefully built our wine and beer choices to compliment your dining experience. Our WineStation self-service tasting machines provide the opportunity to taste 24 wines in taste, half or full glass pours. We also have an extensive wine-by-the-glass and bottle list to choose from. We have the beach's largest selection of rotating craft brews with 24 selections on tap, which rotate on a regular basis to bring in new breweries and seasonal choices.
So, let TRiO be your destination. While away a lazy afternoon, unwind after a long day, get together with some friends for the evening, or just drop on by. We look forward to seeing you!